International exhibition WorldFoodUzbekistan 2008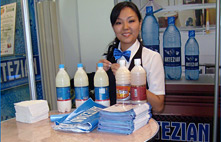 International exhibition "WorldFoodUzbekistan 2008" took place in Tashkent, Uzbekistan on March 25 to 27, where many Uzbek and international companies presented their products. Our Artezian Company is among these companies; it brings its products to the exhibition for the second time, including natural table water Artezian with gas and without gas, fermented milk drinks Tan, Tan with dill, Tan with talkan, milk and cereal beverage AkDan and cereal drink Arshan. These drinks are not traditional for Uzbek people; therefore they caused special interest of the exhibition visitors.
If a passer-by in Bishkek suffers from thirst in the street, he will mandatorily come to two accurate barrels – Tan and Arshan, and drinks a glass or two of useful and favorite drink with big pleasure. In Uzbekistan, where the ambient temperature is much higher, people drink sweet soda pop or water in plastic bottles. Therefore, when the representatives of our company made sampling by taste, the visitors were satisfied with the taste of drinks and unsatisfied with the fact, that they have no such drinks yet. Unusual taste, nutritional value, natural processing, tonic properties – this is all what the people recognized! Communicable visitors wished further prosperity, welfare and successes to Artezian Company!