"ARTEZIAN" COMPANY CONGRATULATED CHILDREN IN PANFILOV PARK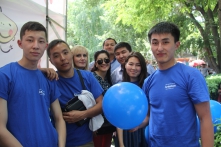 If today nature has presented a warm sunny day, then it becomes doubly joyful, because on the first day of summer in many countries, International Children's Day is celebrated. This holiday is familiar to many people of Kyrgyzstan as the International Children's Day. International Children's Day is one of the oldest international holidays. The decision to hold it was made in 1925 at the World Conference on the Welfare of Children in Geneva. History is silent as to why it was decided to celebrate this children's holiday on June 1.
The "Artezian" company did not stand aside and congratulated the children in Panfilov Park on the Children's Day! Representatives of the Company arranged a real holiday for little kids, organizing funny contests and quizzes with prizes, and also distributed favorite drinks of childhood "Buratino", lemonades "Tommy" and the purest water "Artezian". It was impossible not to notice the enthusiastic and joyful faces of the children that were captured on this bright day.