Этот год был богат на события. В числе них, рождение нескольких близнецов - тройняшек и четверняшек.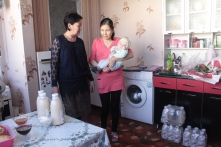 This year has been eventful. Among them, the birth of several identical twins - triplets and quadruplets. The whole country, together with their parents, rejoiced at the birth of babies. For the good health of children, mothers simply need to eat the right foods.
"Artezian" company, consisting of a manager and a technologist, decided to visit the twins' families, presented "Baked Milk" to 4 twin mothers, and technologist Maya Moldobaeva gave valuable advice on the correct use of the product during feeding.
"Baked milk" of "Artezian" contains a high concentration of vitamins that are so necessary for the development of babies and the health of mothers.